Tiles & Grout Cleaning
Tiles & Grout Cleaning Services
Can you remember how sparkling clean your tile and grout looked when you had it put in ? And for most of us the mop and bucket, and kneeling on the hard floor with a scrubbing brush are the cleaning tools of choice. This will be ok at first, but eventually you will notice the grout lines getting darker in the high traffic zone areas.
Over time, fatty soils start to break down and turn acidic in the grout joints and all porous areas of the tile and this actually eats at the grout and tile. Mopping and scrubbing will no longer do the job.
Don't worry… our powerful van mounted cleaning system, with it's high water pressure will blast through and separates dirt, grease and grime from the grout and tile surface. If your floor has been sealed this should be all you need to restore the natural beauty of your tile and grout quickly and economically.
Unfortunately, most people forget or don't realise you can have your tile floor sealed and protected. An unsealed floor especially porous grout can be stained by dirty mop water, resulting in spotty stains and dark grubby grout lines. This cleaning process will remove all surface grime, but may uncover hidden stains.
Tile and Grout Cleaning Dubai
Tile and grout cleaning Brisbane provides professional tile cleaning, tile sealing, indoor tile and grout cleaning and tile regrouting. Call us on +971 55 5849116 for the same day tile and grout cleaning services in Dubai.
City Serve Tile and Grout Cleaning Dubai provides a complete range of residential and commercial tile cleaning, grout cleaning and tile sealing services in Brisbane. Our tile and grout cleaners are available 24 X 7 for the same day tile and grout cleaning service. City Serve Tile and Grout Cleaning company offers professional Tile Cleaning, Shower Tile and Grout Cleaning, Bathroom Tile and Grout Cleaning Services, Tile Recoloring, Tiles Regrouting, Tile Polishing, Indoor Tile Grout Cleaning, Outdoor Tiles Pressure Cleaning, Indoor Tiles Cleaning, Tile Repairs, Tiles Restoration, Tile Stripping, Grout Cleaning services 365 days a year across Dubai, UAE.
Local Tile and Grout Cleaning services
Flexible Tile and grout Cleaning booking hours
Bathroom Tile and Grout Cleaning & Mould Removal
Shower Tile and Grout Cleaning Services
Exact quote over the phone no hidden fees
Same Day Tile and Grout Cleaning Service in Dubai
Our Tile and Grout Cleaners works 24 hours in Emergency
Our Tile and Grout Cleaners are fully certified, experienced and accredited
Same Day Tile and Grout Cleaning Dubai
City Serve tile and grout cleaning Dubai provides a complete range of residential and commercial tile and grout cleaning and sealing services in Dubai. We have been providing excellent tile and grout cleaning services to residents of Dubai for more than 8 years. Our team is exceptionally good in taking care of all kinds of floors including hard surfaces. So whichever area of your home you wish to restore – be it kitchen, pool deck bathrooms, walkway, or shower stalls – we have the means to do so in the finest possible way.
Tile and Grout Cleaning Dubai | Colouring Call @ +971 55 5849116 Your Local Tile & Grout Cleaner.
City Serve Cleaning Services Dubai knows how to renovate your floors to give them a like new look with our advanced cleaning methods. If required, we undertake repair services of floors too.
Call City Serve Cleaning Services Dubai today to give a complete makeover to your tiles and grouts without making a hole in your pocket!
Professional Tile Cleaning And Sealing
Tiles are an important part of our interior decor and they add beauty and shine to it. All tiles require routine cleaning time to time so as to prevent damage and keep the tile installation in good condition. Porous natural and man-made tiles require sealing as sealing will prevent and reduce stains and keep the stains suspended on the surface. City Serve Cleaning Services can provide you with professional tile clenaing and sealing services. Our team of expert professionals use the best commercial products and solvents for cleaning and sealing purposes. Equipped with better tools we can deliver the best tile cleaning and sealing service for you in no time.
Why Choose City Serve Tile and Grout Cleaning Dubai?
Similar to your carpet, mattress and furniture, dust builds up over time in your floors. It dulls your tiles and grouts and causes discoloration in your floors. This build-up of germs and contaminants makes your floors unhygienic and unhealthy for the inhabitants. Moreover, regular usage and spills cause stains and spots on your floors that cannot be cleaned using home cleaning methods. So what is the simplest and most effective way to keep your floors – tiles and grouts absolutely clean, germ free, stain free, hygienic and healthy? Just hire the experts from City Serve Cleaning Services Dubai ad consider your task done.
Professional tile and grout cleaning is the only way to keep your tiles and grouts looking as good as new. Also, professional cleaners like City Serve Cleaning Services offer tile and grout sealing services. Sealant is a protective coating that helps prevent staining, resists soiling, and makes for easier maintenance. The loudening of dust, lubricant, and other spilled items can give the once bright and vibrant tiles a dark and dirty look.
City Serve Cleaning Services Dubai provides quick, efficient, and economical solutions that work on approximately any solid surface: natural stone; travertine; brick; concrete; stucco etc.
Call us right away to bring back the brightness of your tiles and grouts!
City Serve Tile and Grout Cleaning Services in Dubai Includes:
Tile Cleaning Services
Grout Cleaning Services
Tile Recoloring Services
Tiles Regrouting Services
Tiles Stripping Services
High Pressure Tile Cleaning
Tile Stain removal
Broken Tile Repairs
Marble Tile Cleaning
Natural stone cleaning and sealing
Tile Sealing
Bathroom Tile Steam Cleaning
Grout Grout Coloring
Our Tile and Grout Cleaning Process
At City Serve Cleaning Services Dubai we are very serious about the procedure followed for flawless tile and grout cleaning services. It is as follows:
First of all, our cleaners do vacuuming of the tiles in order to eliminate loose dust particles.
Secondly, the stains on the floors are treated with bio-friendly cleaning solutions.
Third step is hot water extraction that removes all embedded contaminants and dirt using hot pressurized water.
All nook and corners are cleaned very diligently.
Fifth step is to dry the floors so that you can use them again without further delay.
Grout sealing is done to protect the grouts for a long time.
If you need, we can change the grout sealing colour as well.
Lastly our cleaners thoroughly inspect the floors again
Shower Tile and Grout Cleaning Dubai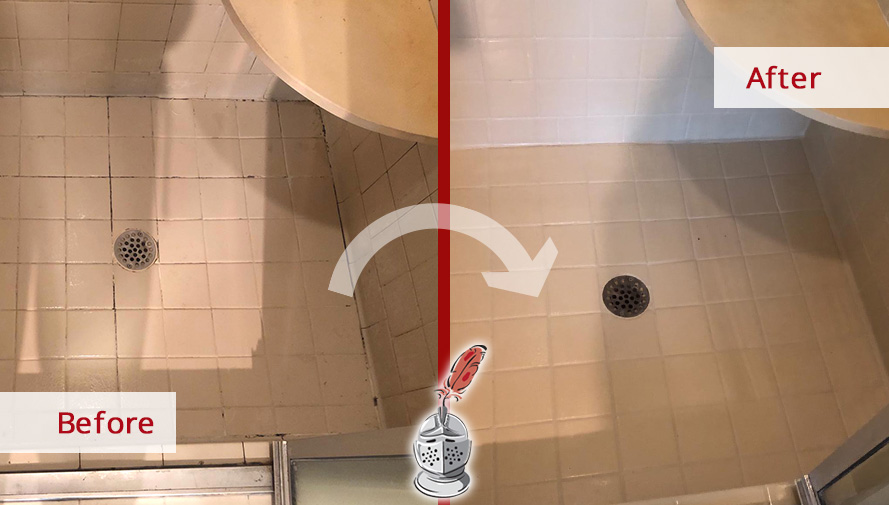 The usual drying time is 30 minutes but if you have opted for color sealing then it may take up to 2 hours.
In any case if tiles are broken we replace them properly without any damage. To replace the broken tile, we first use a carbide bit oscillating tool to cut the grout surrounding the broken floor tile. This tool is specially designed to allow us to accurately remove the broken tile, without cracking any other part of your floor.
We can also repair damaged grout and replace that old and mouldy caulking around your tub or shower with high quality 100% silicone caulking. After cleaning is complete, a clear incisive sealer may be applied to keep your newly cleaned surface area beautiful.
So if you are tired of those old and ugly tiles and grouts and thinking of changing them, STOP! Give us a call and we could save your money by cleaning them and giving them a new look without replacement!
Our Tile and Grout Cleaning Services
With City Serve Cleaning Services Dubai rest assured that your floors are in experienced and skilled hands. Our team is highly talented in taking good care of all kinds of floors. And with our high-end results policy your money is definitely safe hands. And in case we don't meet your expectations, all you have to do is give us a call and we will re-do the cleaning at no additional cost.
City Serve Cleaning Services Dubai s your true saviour when it comes to save your floors from untimely decay and discoloration. Make the most of our services and bring back life to your tiles and grouts!
Tile And Grout Steam Cleaning Dubai
Tiles form an important part of our interiors and add beauty and luxury to interior decor. It is important to follow routine tile and grout cleaning time to time to maintain their life and integrity. City Serve Cleaning Services will provide you with all kinds of tile and grout cleaning services round the clock. We will deliver Tile and Grout Steam Cleaning at your doorstep in no time. Our professional tile cleaners use best industrial machinery and steamers. These heavy duty steam cleaners will offer effective and best cleaning results for you. Hire Sparkling Cleaning services for tile and grout steam cleaning today at affordable costs.
Why Choose Us for Tile and Grout Cleaning?
City Serve Cleaning Services assures to enhance your indoor Air Quality by delivering clean floors.
City Serve Cleaning Services Dubai uses a full line of the best, 'Green Certified' cleaning products in the world for tile and grout cleaning.
From start to end we try hard to surpass your expectations with our hard work, ethics and concentration for detailing.
We offer complete range of tile and grout cleaning services under one roof.
Our team removes dust, viruses, germs and bacteria that are unsafe for your families' health.
Our team protects your furnishings and walls with recommended coverings.
Our team will always be well groomed, in uniform and ready to work hard.
We are available on weekends and public holidays too.
We offer round the clock customer service.
We offer Great results for our tile and grout cleaning services.
Our cleaning services can be availed at the cheapest prices in Brisbane.
We are experienced and hire only licensed and certified cleaners.
It's a good idea to protect your investment and have your tile and grout sealed, so that they stay sparkling clean and you save time and money !!!
OUR OTHER SERVICES:
Are you looking for interior house painters that are local, reliable and the best at what they do? Does the idea of painting the walls of your home fill you with dread? If you want to get the best results with minimal fuss, then make City Serve Painters your first choice when you need to connect with expert painting contractors. From preparing your interior walls and ceilings to achieving a neat, professional finish, Handy will put you in touch with the right people for the job. Customize your request by specifying your job details, from how many painters you need to how long you'll need them. We'll connect you with the painting professionals that suit you best with no compromise on quality.
Ventilation Duct Cleaning must be carried out at least once every two years to fulfil legal requirements and to maintain a safe and healthy environment. City Serve provides a full Ductwork Cleaning service including inspections and filter cleaning to ensure maximum safety and compliance for your building. Air passing through the duct work can then carry these allergens and pathogens into the building. Without adequate and regular Duct Cleaning, the ventilation system designed to provide building occupants with clean, fresh air, could be doing the exact opposite, with potentially serious consequences.
Tags: Tile Cleaning Dubai, Floor Cleaning Services Dubai, Floor Deep Cleaning Dubai, Floor tiles cleaning services dubai, floor tile polishing dubai, tiles grout cleaning dubai, tiles grout deep cleaning dubai, grout cleaning service dubai, grout cleaners in dubai, tiles cleaning services dubai, tiles polishing dubai, grouting company dubai, dubai grouting cleaning company, regrouting service in dubai, grout replacement dubai, grout deep cleaning dubai, grouting services dubai