Air Duct Cleaning Dubai
Need your air ducts cleaned? We can help!
Do you use ducted cooling? It may need a good clean and service. Our team can provide professional air duct cleaning services, cleaning out dust, dirt and other obstacles from ducts. We have qualified and local technicians ready to improve the air quality of your home or business.
What Are Air Ducts?
An air duct is a type of pipe, tube or passage used in some types of air conditioning, heating and cooling systems to provide warm or cool air to an indoor area.
Air ducts take in all of the unwanted air from inside of your home, and at the same time pump warm or cool clean air back into your home, all while providing your house with ventilation. It's fair to say that air ducts are an important piece of equipment for your heating and cooling.
Air Duct Cleaning – Why Get It Done?
Have you heard about cleaning your air ducts but not sure why you would need it?
Air ducts are an integral part of your heating and cooling system. They breathe in all of the dust from inside of your home so you don't have to.
Due to this, it's unavoidable that dust entering the system will eventually settle within the ducts, building up over time.
As well as dust, air ducts can be the perfect breeding ground for dust mites and insects such as cockroaches, which means that when your heating and cooling is switched on it's likely that those nasties are dispersed into the air and into your home.
These harmful particles can lead to respiratory problems, particularly for people with allergies, causing asthma-like symptoms, or worse.
That's why at City Serve we recommend professional air duct cleaning every two to four years. This will help to manage air duct build-up so that your air conditioning can continue to provide your home or office with clean, breathable air, free from nasties.

Benefits:
Improves system efficiency
Reduces the ambient noise of the ducts
Reduces the risk of allergies
Less need for repairs
Odour & dust count control
We employ specialised equipment to service the following elements of your duct system.
The air return system (the return ducts)
The supply duct lines
The main duct trunk line
The AHU (air handling unit)
All elements and electrical parts, like fan blades, duct register grilles and the main unit motor, heating and cooling elements, as well as the filters
The entire system is sanitised

Note: The duct cleaning technicians can provide only maintenance clean for your ventilation system. The portable and compact equipment, they use, is not suitable for removing large objects from the ductwork system. Major blockages require a duct repair service
Why Choose City Serve Duct Cleaning in Dubai
Most affordable duct cleaning solution on the market
Unlimited in time service with guaranteed results
Free sanitising of your ductwork applied to every vent
Simple booking process
The Cleaning Process
1. We will begin by inspection your property and air conditioning system. For each duct register, we will remove the grill, insert the pressure hose, place the service cover and plug the vacuum cleaner.
2. Once we turn the system on, you will be able to see how all the particles, from inside the duct line, get removed.
3. When we turn off the system, we will wipe clean the inlet entry, grill cover, and deep clean any integrated particle filters.
4. Finally, a sanitizer is applied in each duct line to ensure that your home is protected against allergens.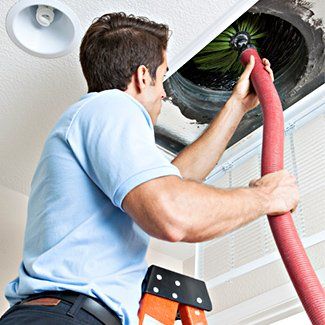 Our duct cleaning service is designed to improve the operation of your home ventilation/heating/humidity control system. It also enhances the air quality in your living space by removing all the accumulated dust and hard-particle build-ups from the duct lines and the system elements. The special sanitiser, applied at the end of the service, helps prevent the system from becoming an environment for mould and dust mite growth and thus, for allergen levels to increase.
Ready to book your Duct cleaning in Dubai?
Don't delay your emergency air conditioning services when you can have the freedom of our payment plans.
Call us: +971 4 3383744, +971 55 5849116 or email: info@cityservedubai.com